Knitting : 25,000 kilos fabrics per day
Dyeing :  40,000 kilos per day
Washing : 15,000 pieces per day
 All Over Printing : 10,000 kilos per day
 Chest Printing : 50,000 pieces per day
  Embroidery : 1 million stitches per day
With a capacity of processing 25,000 kilos of fabrics per day, our wide range of knitting machines produce flawless
fabrics of single jersey, pique, fleece, interlock, auto stripe with lycra, rib with lycra and many more; all undergoing a strict
quality inspection before advancing to the next steps.
DYEING LAB
The best color in the whole world is the one that looks good on you". Our on-site color lab specializes
in inspecting the colour requirements presented by our respective buyers. Along with technical support
our lab is responsible in ensuring sustainably sourced dyes for our production process to ensure prime quality
and prevention of any harm to the environment. The lab also creates a simulation of all the different real life situations
which our products may incur these tests include the washing of the fabric, shrinkage and other features of the fabric to ensure
that our products meet all quality standards and the desired fabric specifications.
DYEING
Our advanced dyeing facilities ensure the most vibrant and accurate set of colors, which are double checked
for colorfastness we pride ourself with the use of AZO-free colors to protect our stakeholders to prevent any hazardous
situation and . Our dyeing facility has a capacity of 40 tons per day with 'High Temperature Specialized Dyeing Machines'
and 'Sophisticated Soft Flow Machines' for coloring CVC, Lycra, PC and Polyester etc.
OUR WET PROCESSING ZONE
WASHING
We have in house washing facilities can perform any type of Pigment Dye Wash, Enzyme Wash, Vintx Wash, Cool Pigment Dyeing/Wash, Burn-Out Wash, Acid Wash etc. That being said with the state of the art modern washing machines offer the potential of any other wash related solutions.
Capacity = 10,000-15,000 pcs per day
STENTER
Our 8(Eight) Chamber Stenter provides drying fabric feature & also the fabric width adjustment and control system during the drying phase. This machine is used for drying, heating, coating uncountable meters of all the different types of fabrics. Our European machines allow to maintain the fabric color and quality throughout the process.
Machine Source: Germany
Capacity: 30 Ton per day
COMPACTOR
An open width compacting machine is utilized to ensure dimensional stability in the fabric. The compactor is used for controlling shrinkage of fabric, GSM control and twisting control under the process of textile finishing.
AOP(ALL OVER PRINT)
With the growing demand for AOP fabrics in the current garments and textile industry due to the
growing fashion demand. Our newest addition of 'All Over Printing' offers a full coverage of all textile has to offer
to meet the needs and requirements by our respected buyers. With the introduction of AOP (All Over Printing), which
allows us to print any design of all over print on the finished textile output.
PRINTING
We have screen, sublimation and digital printing facilities for both placement and all over prints. We do
specialized placement print including CMYK, discharge, flock, foil, pigment, plastisol, heat transfer, crack,
metallic, high build, glow in the dark, heat and light sensitive prints. We use PVC, Phthalate and AZO-free inks
for our printing department keeping our promise on environment protection.
OUR DESIGN HOUSE
We provide design service with highly professional designers and sales team who have years of experience
in respective areas of designing. We intend to give the best results in our production producing accurate designs
as per the demands of our buyers ensuring keeping to our promise of 100 percent buyer satisfaction.
HEAT PRESS
A heat press machine provides transfering designing on to the. This machine allows to transfer graphic design, stones placements and other external design related material, whether foil, stone or any other material as per to the required design. The heat press machine gives the opportunity to transfer individual artwork or designs on clothing materials, garments, shirts, hat brim, T-shirts, and other fabric accessories.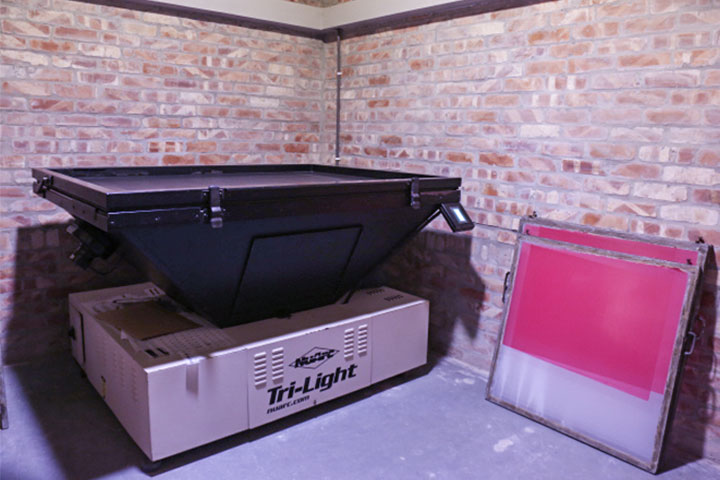 PRINTING-EXPOSE MACHINE
Printing-Expose Machines are used within the exposure region to expose the screen by UV rays to transfer designs according to the requirements placed by the respective buyers. A crisp, dark positive of the artwork is printed and then it is applied to the t-shirts.
GLASS TABLE PRINT
The designs, patterns or photos are printed on a wide range of fabrics in a glass table along with the aid of some automated drying machines in order to provide the best quality. We use this department to print different designs, developed from our inhouse designing team according to the requirements to print on the different fabrics according to the customer demand.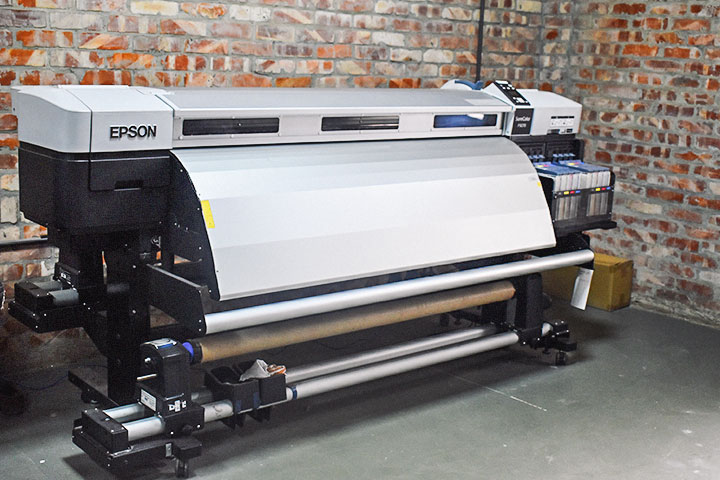 SUBLIMATION PRINT MACHINE
We use sublimation printing for full color or black and white printing, as to our clients needs, we also offer full-coverage printing. Artwork is printed onto a sheet of high-release paper and transferred onto apparel using heat and pressure. Furthermore, with our state-of-the-art modern technology and equipment the possibilities of quality products that essentially endless. Amongst our previous production with  our current machineries we have already successfully produced products that include printing of photos, album cover & even paintings on t-shirts or any required product.
EMBROIDERY
P.N. Embroidery Section specializes in computerized embroidery for knit garments. In order to ensure the best
finishing we use the computerized embroidery machines which allows us to create precise production of the required
designs on to our products.. We have been working for our clients with a good reputation for the last seven years.
Number of heads = 39 Nos
Capacity = 1 million stitches per day.