OUR COMMITMENT TO A SUSTAINABLE ENVIRONMENT
P.N. Composite Ltd. is committed to keeping the environment green. We at PN Composite Ltd. we
have implemented the most efficient modern technology to reduce our carbon footprint as we are committed
to make an eco-friendly workstation. Moreover, we at PN Composite are following strict hygiene-guideline inside and
outside of the whole organization. Along all these initiatives we pride ourselves in being able
to maintain a ZERO discharge of hazardous chemicals since inception.
ETP & WTP PLANT
P.N. Composite Ltd. has already laid the most modern ETP & WTP plants to protect the environment from contamination and to prevent nearby rivers from heavy soiling and from being exposed to any hazardous chemicals.
WTP(Water Treatment Plant)
ETP(Effluent Treatment Plant)
ZLD(ZERO LIQUID DISCHARGE)
For the first time in Bangladesh, P.N. Composite Ltd. has committed a Zero Liquid Discharge system
which will involve reusing the water from the textiles and processing it for reuse. This goes beyond the
premises of the factory and helps keep the nearby areas pollution-free from chemicals.
Active fire protection devices are set at each floor to extinguish or control small fires at any emergency situations. Our building has a wide range of world-class fire extinguishers which help us to prevent any kind of fire incidents being spread.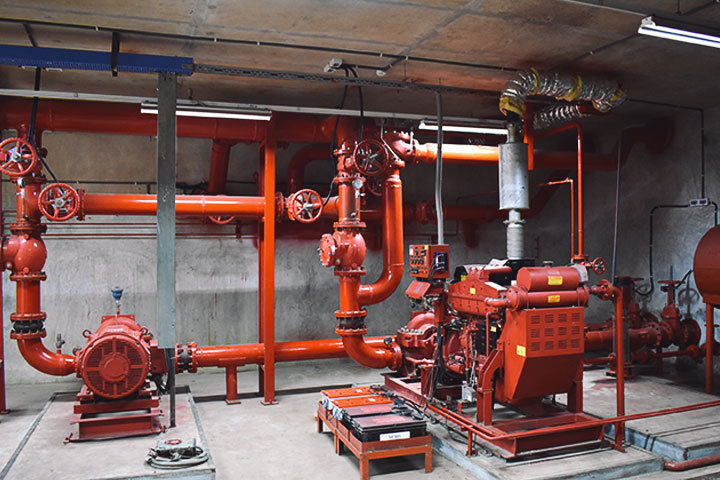 There are enough fire protection systems, sufficient water hydrants, hose-reels and other related equipment. These fire hydrant pumps can tap into a water supply which helps to prevent fire incidents.
Capacity: 1200 GPM
Our factory runs a complete "Fire Drill" in every 15 days and keeps records of all such activities to simulate a fire incident. A regular check on fire alarms, exits and emergency lights is maintained all around the factory.
OUR COMMITMENT TO ENERGY CONSERVATION
CONDENSATION TRAP
Condensate-Traps and Condensate-Recovery-Pumps have been installed at the factory to collect and transfer the condensed chemicals to the boiler feed tank, reducing the amount of energy needed to heat the rest of the tank. Our condensation traps contribute towards an energy-saving and improved functionality for many applications those involve compressed air and compressed gas systems. The Drain-All Condensate Handler has become the industry standard as an efficient way to purging water from compressed air systems.
BOOSTER PUMPS AND AIR COMPRESSOR
Booster pump is a machine which increases the pressure of a fluid & is also used for increasing gas pressure, transferring high pressure gas, charging gas cylinders and scavenging. We use water pressure booster pumps to provide adequate water pressure to the upper floors of our buildings.
Air compressor is a device that converts power into potential energy stored in pressurized air, using an electric motor, diesel or gasoline engine etc.
ECONOMIZER BOILER
Economizer Boiler raises the temperature of the boiler feed water, lowering the needed energy input, in turn reducing the firing rates needed for the rated boiler output. Our boiler feed tank is properly insulated to maintain the feed water temperature above 90 degrees celsius at all times. Moreover, we are using a built-in economizer in the boiler that recovers heat from exhaust gases, which transfers this to the incoming boiler feed water, thus increasing the overall boiler thermal efficiency and reducing CO2 emissions.